Dating tricks in the digital age
With the many confinements following COVID-21, many people found themselves alone or single during this period. In order to kill a little more time during this long moment, dating applications have made it possible to maintain a sociable link with the outside world. But has it really changed the way you meet new people?
What is dating in 2022?
In the digital age, taking your smartphone and installing Tinder has never been easier. In just a few minutes, and after completing their profile, we can find our neighbors on the applications. But do we really meet the person we are looking for? For those who are newly single, getting back into the swing of things is an ordeal. The codes have changed at the dating level, not only in the highlighting of his profile photos, but also in the descriptions. Whereas before it was quite complicated to sell yourself, today it is becoming a real career as the competition is fierce. Moreover, a difference between men and women is notable. While a woman will receive dozens of likes per hour upon registration, a man will only receive a few per week.
What solutions to become more attractive?
Fortunately, there are solutions to improve your dating profile.
The easy way out would be to pay for dating apps. Tinder, Bumble or even Happn offer various subscriptions, ranging from a few euros to several tens of euros per month just to highlight our dating profile. Obviously without any guarantee of success in the end. Because if our profile is not attractive, paying or not, the number of matches will remain very low.

The second solution would be to mark on Google How to flirt on dating apps and you will come across hundreds of sites created by flirting professionals, giving you tips to instantly fall all the people you want under your spell infallible. But there are no magic tricks to attract the people we want. There are techniques to improve greatly. We will see them in detail to help you better understand how to improve your Tinder, Bumble & co profile.
Photos, a formidable tool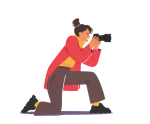 What if this simple word could change the way you attract on dating apps? Because yes, the most important point in a dating profile is the first photo. This is the one that appears first when your profile appears on the other. This is what will catch the eye and arouse curiosity. You should know that the decision to like your profile or not rests at 90% on your first photo, so you might as well say that it has to be on top!
In order to improve your photo, you can ask the opinion of your friends in order to know which one represents you the most and puts you forward the best. The problem with this solution is that your friends will inevitably have a not really objective judgment, because they may not want to offend you, or for other reasons. You can also hire a professional photographer. Even if this solution is quite expensive, it is the one to be preferred, because it will be able to take the right photo, at the right time. However, be sure to choose a photographer who specializes in photos for dating apps. The moment that needs to be captured is a natural pose, not a forced shot that won't represent you.
Once your photo has been taken and selected by you, it's time to rate it. And that's what www.mydatingreview.com gives you as an option. The possibility of evaluating your photos or your dating profile in order to improve it as well as possible, to have a precise opinion on what is good or what needs to be improved. The community opinion has already shown its effectiveness in several areas and even more so in dating. That's why we offer you the opportunity to test professional tools for free. In order to put the odds on your side in the search for your ideal person on dating sites.
There are of course other sites allowing you to evaluate your Tinder or Bumble profile, working mathematically with intelligent algorithms, but in the human relational field, mathematics does not necessarily work, which is why mydatingreview wants to be a innovative and complementary site.
If you have any questions about improving your dating photos, or if you don't know where to start after installing this famous flame application, do not hesitate to contact our team of experts.